Remarkable Success: Kiran Prajapat of Gyan Putra emerges as 2nd Best among 15203 Students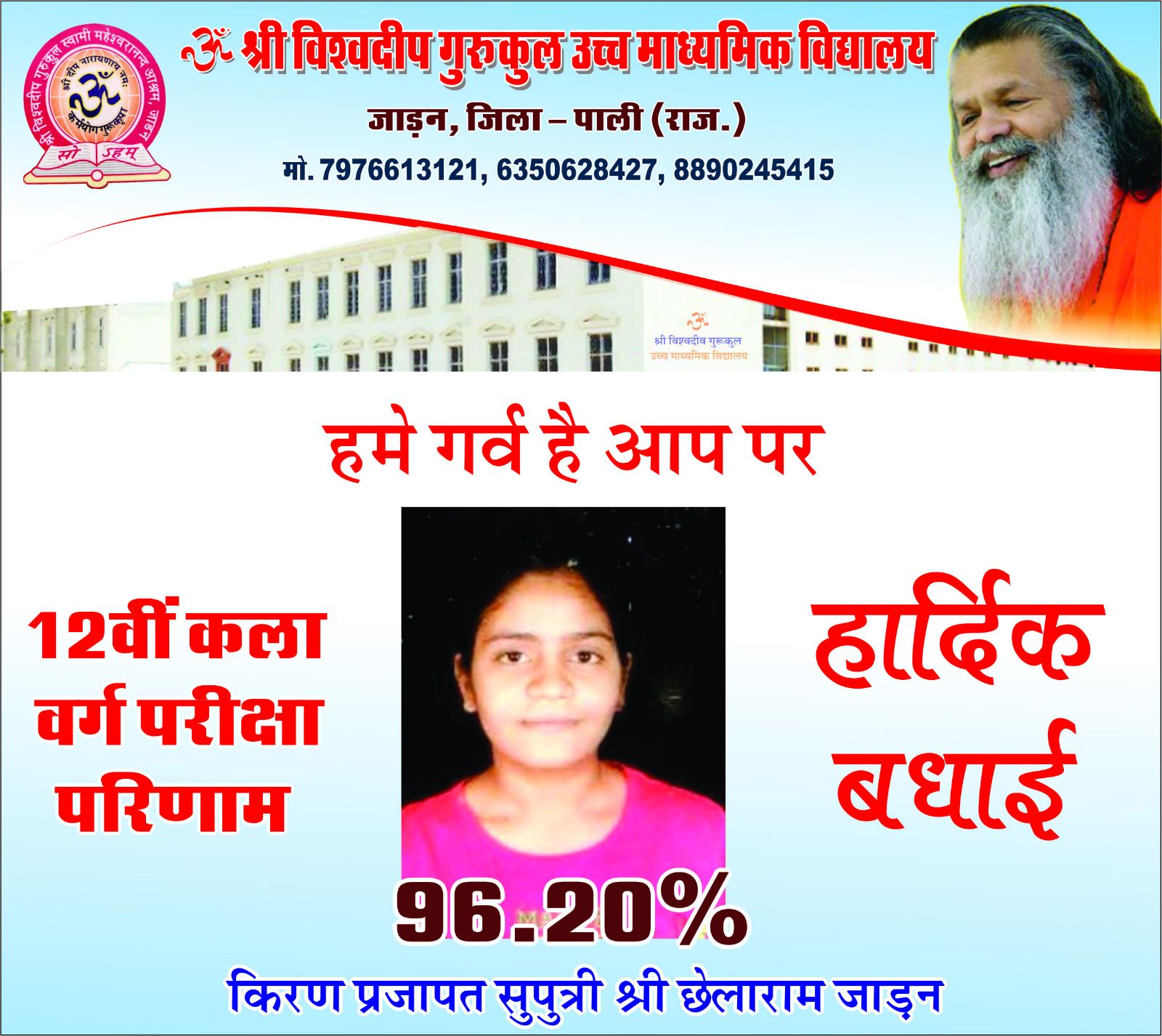 We are very happy and proud to share the news that in 12th Arts Rajasthan Board Examinations our Gyan Putra girl Kiran Prajapat from Jadan village achieved the 2nd best result in Pali district level with 96.2% result. Kiran comes from a poor family – her father is earning by selling chai and mother works only occasionally some days in the month through the Government rural employment program for the poor called NREGA. Just to be aware of the greatness of the achievement, total number of students participating in exam in Pali district was 15203! Among them, she has the second-best exam result. Due to large numbers of participating students and very small margins in results, it is always published list of 10 toppers. The best result in the district was 96.6% which is just 0.4% difference.
In our School telephones are ringing during last 2 days as members of the press want to publish the story of Kiran and Gyan Putra Scheme supporting education of children from underprivileged families, and especially of girls.
As we are looking into results statistics, 3 best results in the school are by Gyan Putra students (2 of them girls). This year, all 12th students have passed the exams.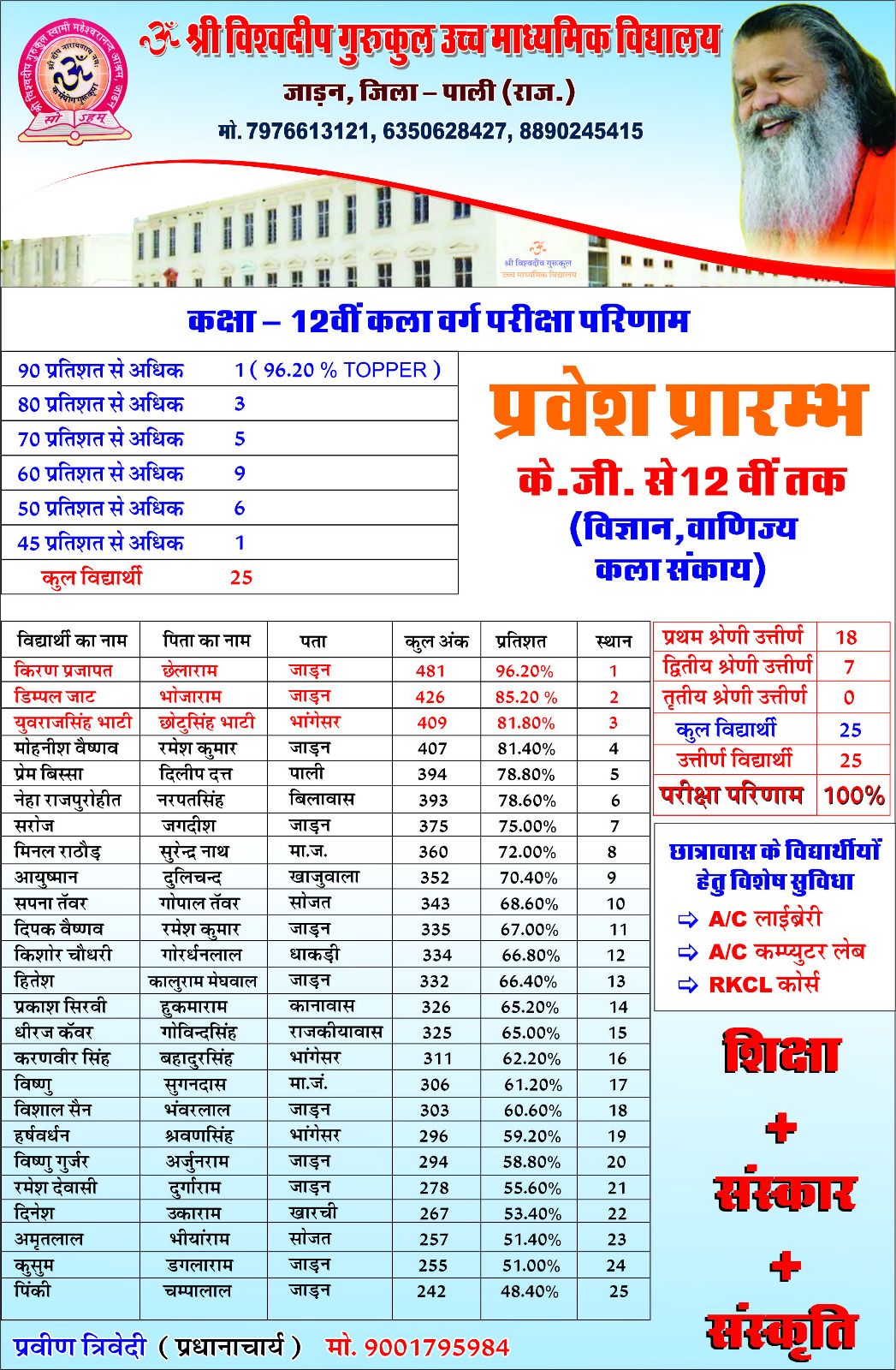 Two translated articles from the regional newspaper:
In the 12th grade arts class, student Kiran Prajapati obtained 96.20% marks.
Jadan
Kiran Prajapati, a student of Shri Vishwa Deep Gurukul Higher Secondary School in Jadan, achieved 96.20% marks in the 12th grade arts class, bringing glory to Gurukul Ashram, the village, and her family.
Kiran's father, Chelaram, runs a small tea shop, and her mother is a housewife. Despite being from a less privileged family, Kiran also supported her mother's household chores and dedicated four hours daily to her studies. She acknowledges the support of her parents and teachers in reaching this milestone and credits them entirely. She will continue her studies and aspire to become a District Magistrate.
Kiran is currently preparing for this goal and enjoys participating in competitions.
Dr. Suresh Garg, the principal of Paramahansa Swami Madhavanand College, along with senior teachers of the school, visited Kiran's parents to congratulate the student. They presented her with a flower garland and arranged for a sweet treat. Kiran is benefiting from the Gyan Putra Organisation operated by the ashram, receiving free education.
The daughter of a tea vendor has achieved greatness.
Kiran Prajapati, a student of Vishwa Deep Gurukul Higher Secondary School located at Marwar Junction in Jadan, has obtained 96.20% marks. Her father, Chelaram, who runs a tea shop, is overwhelmed with joy at his daughter's success. Kiran says that she is working hard to fulfil her father's dream. She assists her mother with household chores every day and used to study for four to five hours. She states that her parents always encouraged her to move forward without pressuring her regarding grades. As a result, she never looked back and achieved success.
This year 100% of our students passing in Art, Science, and Commerce 12th result.
In Commerce, first, second and fourth results in the school are by Gyan Putra students.
In Science, second, third, and fourth-best results are by Gyan Putras.
Just to remind, 3 years back Gyan Putra girl Nirma Tanwar also achieved the district topper result board examination.