Gyan Putra - Support for School Children
---
Association for Promotion and Development of
Educational and Research Projects in India eV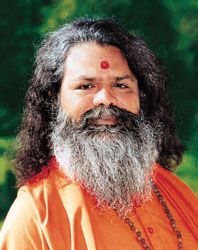 Patron of the Association:
Sri Swami Paramhans Mahamandaleshwar Maheshwarananda

"The most valuable thing we can give is wisdom. The best help we can give is to help the people to become independent and to empower them to help themselves."
Children need education!

In 1998, the Association was founded to build and support the education and research projects in India It has contributed to build the big school in Jadan, Dist. Pali, Rajasthan, India.

Gyan Putra
In addition to the construction of the school, the entire organization of school operation is supported. This allows all girls and boys from needy and large families to attend school. Our support enables especially the girls to be even allowed to go to school.
The school provides education up to 12th class, offering also science and commerce subjects, which is rare in the area. The students have the possibility to finish school with an A-level equivalent certificate, allowing them to attend university.

School buses pick the children of the surrounding villages up in the morning and bring them back home in the afternoon, therefore also children living further away from the school have the chance to attend it.


How you can help
by an annual donation

by a one-time donation

through regular monthly support

as a member of the Association (member fee € 6.00 per month / € 70.00 per year)

by a school sponsorship (€ 150.00 per year)

You can also make donations via PayPal.
(Please transfer membership fees and sponsorship fees via regular bank account.)
Bank accounts
In Germany:

Recipient: Association for Promotion and Development of Educational and Research Projects in India eV
Bank: Kieler Volksbank eG
IBAN: DE 24210 900 070 062 501 402
BIC: GENODEF 1 KIL
PayPal (donations only, no membership or sponsorship fees):
About Us
The vision of the founders of the association was to build a school and help children, especially girls, to have access to quality education. The school has been built and steadily expanded, as more and more pupils attended the school. Starting with 146 pupils in 2002, the number of pupils had its peak with approximately 1350 pupils in 2014.


Association for Promotion and Development of Educational and Research Projects in India e.V.
Hannover
Germany
Email: This email address is being protected from spambots. You need JavaScript enabled to view it.